Camera Ready is the DP's go to choice camera rental house in Los Angeles now renting Sony Venice AXS-A1T566 1 Terabyte

media cards. Camera Ready will be your best rental source for
pro video cameras, cinema lens, camera support, production monitors and more.

Call us today




for our best rental quote!
Day $175 Week $200 Long Term Discounts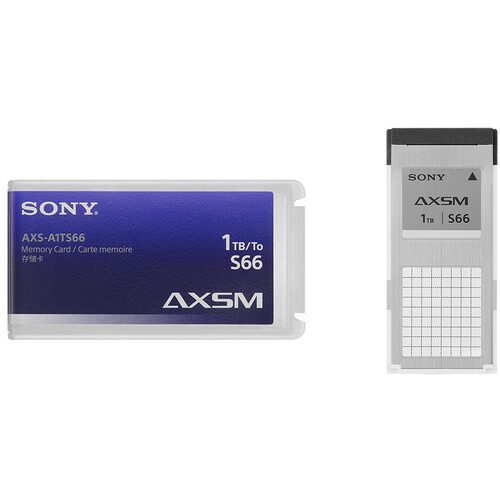 General Features
Record 8K X-OCN and 6K X-OCN with VENICE 2
Users of the VENICE 2 with an 8K sensor will be able to record up to 8.6K 3:2 X-OCN XT video at 30p and 8.2K 17:9 X-OCN ST video at 60p. The VENICE 2 with a 6K sensor will be capable of recording up to 6K 3:2 X-OCN XT video at 60p and 4K recordings at up to 120 fps.
High Capacity, Fast Transfer Speed Recording
The AXS-A1TS66 has a capacity of 1TB and guaranteed write speed of 6.6 Gb/s, or 825 MB/s.
4K HFR Recordings
The AXS Memory A Series records High Frame Rate (HFR) recordings, with capacity for up to 34 minutes of 4K 16-bit X-OCN XT recording at 90 fps.
Works with the AXS-R7, AXS-R5, AXS-AR3, AXS-CR1, and AXS-AR1
The AXS-A1TS66 works with the AXS-R7 Portable Memory Recorder and AXS-R5 2K / 4K Raw Recorder. The AXS-AR3 Thunderbolt Memory Card Reader is its ideal companion, but the card is also compatible with the AXS-CR1 USB 3.0 AXS Memory Card Reader, the AXS Memory Card Adapter, and the AXS-AR1.
Slim and Small Card Design
With dimensions of 1.4 x 3.0 x 0.3″ / 35.0 x 75.0 x 8.0mm, the AXS-A1TS66 has the same height and width dimensions as SxS Memory cards.
In the Box
Sony 1TB AXS S66 Memory Card
Card Case
Card Label Sheet
Limited 1-Year Warranty
News, Tips and Reviews
Sony Venice II Media Card AXS Rentals
See any errors on this page? Let us